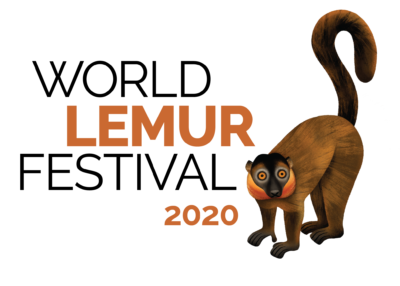 Because of Covid-19, we know it is a challenging time to plan activities and events! Here, we share some virtual event ideas, and easy ways that zoos, conservation organizations, and individuals can participate in the World Lemur Festival.
Virtual Event Ideas
Facebook Live Video Series. Connect with a member organization located near you to create a series of Facebook Live videos about lemurs and Madagascar. If you work at a zoo, some of the videos could feature the zoo's lemur keepers and the zoo's lemurs. And, videos could feature a representative of a member organization speaking about their lemur conservation work in Madagascar.
Highlight a different species of lemur on your social media each day. Feature species at your organization or those that you may support through conservation initiatives.
Trivia with Q and A on Zoom. Hosting a virtual trivia event is a great way to get your audience to show off their knowledge of lemurs. You can involve your zookeepers or other experts to talk about lemurs and other animals from Madagascar at your zoo.
Teach a virtual class. Connect with a school you know to teach students about lemurs! Find a member organization to collaborate with if you need help. Or, use SkypeAScientist to find a scientist to talk about lemurs, primates, evolution, or conservation.
Engage the Entire Zoo Team
Marketing
View our 2020 social media guide, with this year's slogan "Leap for lemurs! Learn, Share, and Act to Save Lemurs Together" and messaging tips about lemurs and their conservation.
If you are planning a live or virtual event, email us to have your event added to the World Lemur Festival event calendar, and send us any links or graphics we can use to promote your event on social media. Also be sure to promote your event on your zoo's social media channels to bring a larger audience!
Education
View and download our free teaching resources, including 4 new lemur learning activities developed in collaboration with the Louisiana Lemur Foundation.
Your education staff could present virtual activities:
Present instructional videos on lemur themed crafts
Post activity sheets and coloring pages that relate to lemurs and Madagascar
Suggest movie and book recommendations that provide further learning about lemurs. See our Lemur Virtual Film Festival for ideas.
Partner with your local school or district to host virtual presentations with K-12 classes focused on lemurs. These presentations can align with your states standards and be directed for each grade focusing on biology, ecology, or other related subjects. Topics can range from lemur anatomy to evolutionary adaptations. This will expose the students to your organization in lieu of field trips.
Animal/Conservation Experts
Meet a Keeper. Host a virtual presentation via Zoom or Facebook live to present and share your work with the lemurs you have on exhibit.
Zoo Keeper/conservationist Q & A. Use social media to host question and answer interaction. This type of event does not have to be hosted live and can take place over several days.
Panel Discussion on Zoom. Hold lemur themed webinars, presentations, or virtual happy hours hosted by multiple professionals at your organization or other LCN member groups.
Fundraise and donate to conservation organizations and research groups. Work with your local AAZK Chapters or internal interest groups to hold raffles, auctions, or other fundraising ideas.
Leap for lemurs on World Lemur Day! Learn, Share, and Act to Save Lemurs Together.