Traveling to Madagascar to see lemurs in the wild is an adventurous way to support lemur conservation.
Responsible ecotourism in Madagascar is an important strategy for saving lemurs from extinction. It provides high-paying jobs for many Malagasy people, boosts Madagascar's economy, and shows the financial value of protecting wildlife and their wild places.
PLAN A TRIP TO MADAGASCAR
Learn about traveling to Madagascar: how to plan your first trip, where to visit, and what to do during your travels to Madagascar.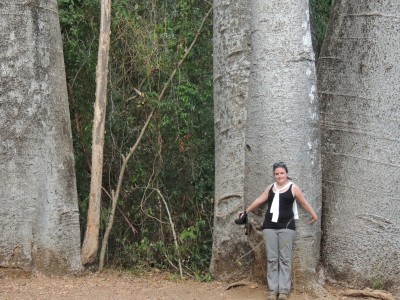 Read about options for traveling to Madagascar for the first time visitor, with  helpful tips and quotes from the experts.
This official website for Madagascar National Parks showcases 25 national parks, 13 special reserves, and 2 Réserves Naturelle Intégrale.
This official website explores must-see activities, lodging, and practical information for visiting Madagascar.
BLOG POSTS ABOUT TRAVELING TO MADAGASCAR
Explore these blog posts from the Lemur Conservation Network about traveling to see lemurs across the island.
Andasibe is Madagascar's most visited national park because of its proximity to the capital of Antananarivo. But, this rainforest is deceptively large and is home to many lemurs, frogs, and other animals. It's well worth the visit.
Also near Tana is the Anjozorobe Forest. A favorite here is Saha Forest Camp, run by the Malagasy NGO Fanambe. You can see several species of lemurs here and go on both day and night hikes, just a few hours from Madagascar's capital city.
Berenty is legendary, as many National Geographic documentaries are filmed here. See dancing Verreaux's sifakas, ring-tailed lemurs, and sportive lemurs all in one place in southern Madagascar.
In 2020, Asity Madagascar began managing this forest near Fort Dauphin in southeast Madagascar, which is home to seven lemur species! They have now set up tourist facilities and are working with local communities to protect the forest. Be one of the first tourists to visit this park!
Anja is a community-run reserve along the popular Route National 7 in southern Madagascar. Here, you can see easily several troops of ring-tailed lemurs on short and long hikes with rock scrambles and gorgeous views.
Just 5 km from Anja Reserve is the Sakaviro Forest. This community-run reserve is little visited, but so interesting. See a forest of a ring-tailed lemurs, and travel with villagers to see their ancestors' cave and learn about their history.
The rainforest of Ranomafana National Park is home to 13 species of lemur and many endemic birds, frogs, and other species. Dr. Patricia Wright from Centre ValBio worked with the government of Madagascar to establish this park in 1991.
Marojejy in northeastern Madagascar has world class hiking with cabins and cooking facilities at three stops on the way to the peak of the mountain. See silky sifakas, red-bellied lemurs, white-fronted brown lemurs and more in this gorgeous rainforest.
In the northeast SAVA region of Madagascar, ASSR is a great spot for camping, birding, and seeing lemurs among nature. The tourist facilities at ASSR are supported by the Lemur Conservation Foundation.
VIRTUAL TOURS OF MADAGASCAR
Explore virtual experiences to learn about key places to experience in Madagascar.
In this Google Earth tour, you will visit 8 places, including 2 cities and 6 wildlife reserves. We'll learn about the island of Madagascar and the people and wildlife that call it home!
This interactive educational program connects local experts to people of all ages interested in the wonders of Madagascar via Zoom. Book a virtual hike through Ranomafana and learn from professional Malagasy tour guides about its wildlife.