About the Lemur Conservation Network
We believe that lemurs can be saved from extinction if we all work together.
So, we formed a network of over 60 conservation organizations working in Madagascar. We support this network through communications, education, and the empowerment of Malagasy organizations and individuals.
Madagascar is large and its regions are varied, so conservation here is spread out. Many small organizations focus on specific regions and their needs. The Lemur Conservation Network identifies needs that can be solved broadly across Madagascar, and works to fill those gaps.
Communications
We raise awareness for lemurs and those working to save them from extinction. And, we  build connections between zoos, people in Madagascar and around the world, the press, donors, the scientific community, and influencers. As part of our communications work, we promote the World Lemur Festival and World Lemur Day each October, and encourage zoos around the world to celebrate. And, we promote the annual Conservation Allies matching campaign for Malagasy organizations.
Education
We create large scale education projects that are used by many organizations throughout Madagascar and the world. This includes our flashcards and card games now in use in Madagascar and across the world, pictured here. Learn more about the card games on our Shop page.
Empowerment
We support Malagasy organizations and conservationists through funding, promotion, and capacity building programs such as free trainings, program supplies, education materials, and other resources. Each year, we donate to the Conservation Allies matching campaign for Malagasy organizations, facilitate donations to small organizations who are often unable to receive online payments, and financially support small projects in Madagascar.
Our Memberships
You can join the Lemur Conservation Network as an individual, conservation organization, research group, zoo, or business. Membership is free for conservation organizations, research groups, Malagasy students and professionals, and Bronze zoo members. Our supporting members — individuals, businesses, and supporting zoos — contribute financially to our Malagasy outreach in Madagascar and allow us to donate even more to Malagasy-led conservation initiatives. Learn about memberships.
OUR COMMUNITY AND HISTORY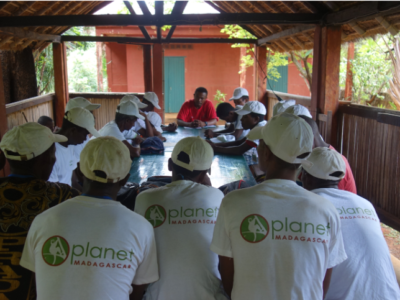 Learn about our member organizations. Narrow conservation members by lemur species, region of Madagascar, and type of conservation work to find an organization to support through donations, volunteering, or partnership.
Our international team is passionate about saving lemurs from extinction. We have backgrounds in science, communications, technology, zoos, and more. Many on our team donate their time so we can keep our overhead costs low.
The LCN launched in 2015 as a project of the IUCN Species Survival Commission Primate Specialist Group. In January 2021, we became an independent not-for-profit organization registered in the USA.
Sign Up for Our Newsletter
Receive updates about our work and learn how to support lemur conservation.