Inspiration and Examples for Wildlife Days
Wildlife Days like World Lemur Day raise awareness for conservation both online and in person.
They are also effective at raising funds for conservation and elevating the profile of lesser known species, especially when focused on "ambassador species" like lemurs.
The resources below show how you can get involved in wildlife days. Use these materials to inspire your own virtual events, podcasts, social media, videos, teaching activities, and more.
World Lemur Day has helped the Lemur Conservation Network and our members raise awareness for lemurs and Madagascar each October. During this month, we see our highest web and social media traffic of the year. By focusing our outreach around World Lemur Day, we see increased engagement and reach new lemur fans.
— Lynne Venart, Digital Communications Manager at the Lemur Conservation Network
VIRTUAL EVENTS
Virtual events can help you engage diverse audiences around the world without a huge budget. Use online events to help your audience get to know your organization and your conservation efforts.
Virtual Event with Live Q and A for the Great Backyard Bird Count
Check out this example of a virtual event with a live question and answer session! The Trevor Zoo created this event for an annual wildlife day about local birds, the Great Backyard Bird Count. During the virtual event, they also encouraged viewers to visit the zoo in person to participate further. 
AUDIO AND VIDEO
One benefit of creating audio and video programs for wildlife days is that they are powerful year round. Launching a new video or podcast during your wildlife day brings it a larger audience.
"Keeper Chats" Wildlife Day Podcast featuring Quolls
Join zoo professionals Andie and Jake as they discuss underrepresented species across the globe, quolls, and how wildlife days could assist their conservation stories! Learn more about the quoll.
World Lemur Day Special with Trav's Travels
The YouTube channel Trav's Travels partnered with the Lemur Conservation Network to create this fun video for 2020 World Lemur Day. Trav talks to LCN's Madagascar Manager Seheno Corduant about the ring-tailed lemur and threats to lemurs in the wild. 
SOCIAL MEDIA
Facebook, Instagram, Twitter, Tumblr, TikTok, and others all have the potential to spread your message for wildlife days. 
Tips for Using Social Media for Wildlife Days
Decide on key messages ahead of your wildlife day.
Focus on one to three key messages. Many wildlife days are promoted by one or more organizations already. Look to these organizations for inspiration and guidance. Some publish a social media guide, such as for World Lemur Day and the Great Backyard Bird Count. If your day does not have a guide, think about what's most important to share when crafting your social media messages.
Choose the social media platforms that work best for your message and audience.
Once you know your message, think about what audiences are the best fit for that message. If fundraising is your focus, consider using Facebook for its older demographic and built in payment processing. If you want to help younger audiences learn about an underrepresented species, try a platform with a younger audience, like Instagram, TikTok, or Snapchat. Use this quick guide to learn about each platform's audience.
TEACHING ACTIVITES
Teaching about endangered species on wildlife days is a fun way for kids to learn about science, biodiversity, and different places in the world. Many zoos and conservation groups share activities and lesson plans about wildlife on their websites. Find teaching resources about lemurs and Madagascar.
The examples below are created for World Lemur Day, but could be adapted for other wildlife days. 
Google Earth Mapping Activity
Age 10 and up
Use this interactive map with your students for World Lemur Day, or adapt it for a different wildlife day. Explore the map to learn about lemur species and their habitats, as well as Madagascar's people and geography. The lesson plan includes discussion questions and tips for adaptation.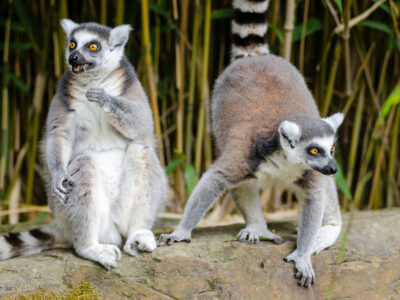 Animal Behavior Ethogram Activity
Age 10 and up 
This activity helps you observe lemurs or other animals at your local zoo (or via a zoo webcam). You will list their distinct behaviors in an ethogram. Ethograms are a great first step toward asking testable questions about animal behavior. Share your ethogram with your zookeeper to help them learn more about the animals in their care!
About This Resource
These web pages were created to help you promote biodiversity conservation for wildlife days. This page and its digital media were created by graduate students in Miami University's Project Dragonfly Biology program. Thank you to Jo Bonner, Jake Clary, Ava Goodale, Andie Haugen, and Lynne Venart for creating this resource.