World Lemur Day and the World Lemur Festival
The next World Lemur Day will be celebrated on October 29, 2021.
World Lemur Day is celebrated each year on the last Friday of October. The World Lemur Festival is celebrated around the world in the weeks surrounding World Lemur Day.
Help us celebrate lemurs and spread the word about their conservation on World Lemur Day and during the World Lemur Festival! During the festival, we inspire people to love lemurs and join us in saving them from extinction. With a staggering 98% of lemur species threatened with extinction and 31% categorized as Critically Endangered, the time to act is now.
RESOURCES FOR CELEBRATING WORLD LEMUR DAY
These resources help zoos, conservation organizations, educators, and individuals participate in World Lemur Day and the World Lemur Festival. Contact us to learn more about participating.
Find virtual event ideas and easy ways that zoos, conservation organizations, educators, and individuals can participate in the World Lemur Festival.
Find tips for social media messaging, including event hashtags, key messages, and examples of social media posts.
We encourage you to use the World Lemur Day or Festival logos in this Dropbox folder. The illustration featured in the 2021 logo was donated by Felinar Mr. Lemur.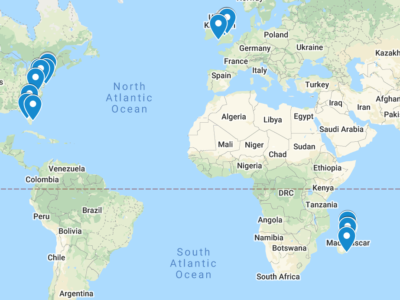 The 2021 festival will include virtual and in person events in Madagascar and around the world. This calendar is updated each year with events and participating organizations.
Sales from our TeeSpring store support lemur conservation. For 2020, 8 illustrators designed t-shirts and other products featuring a variety of lemur species and illustration styles.
Find inspiration for participating in wildlife days like World Lemur Day, like tips for virtual events, podcasts, social media, videos, and teaching activities.
HISTORY OF THE WORLD LEMUR FESTIVAL
The first World Lemur Festival was celebrated in 2014, and was organized by Professor Jonah Ratsimbazafy of GERP Madagascar.
The first festival was held only in the capital city of Antananarivo, Madagascar. It raised awareness about the value of lemurs as Madagascar's unique natural heritage among scientists and the general public. It aimed to awaken pride for lemurs in Malagasy people, improve the economy through tourism, and promote lemur conservation and education worldwide.
The next year in 2015, zoos, organizations, and individuals around the world joined the annual celebration for World Lemur Day and the World Lemur Festival.
Take a look back at how we celebrated through the years in these blog posts.