IMPACT Madagascar, a Malagasy NGO, was born from the idea that it is not possible to protect the environment without also considering the people who depend on its resources on a daily basis. Since its foundation in 2013, IMPACT Madagascar has been working with local communities to alleviate poverty and provide achievable and sustainable environmental protection through a variety of projects focusing on community health and development, biodiversity conservation, and environmental outreach.
How does Impact Madagascar work for lemur conservation?
Because of the inherent connectedness between poverty and biodiversity use and the mutually self-reinforcing nature of these links, addressing rural poverty and environmental degradation requires a holistic multidisciplinary approach in order to achieve successful sustained results.
Our goal is to protect and conserve Madagascar's unique biodiversity while improving the lives of its people. We implement permanent change through collaboration with local people, creating a foundation on which we can build a better world. Our integrative approach to biodiversity conservation and development is reflected in our range of projects, from ecological conservation to training and education, from recycling to construction.
Working with local people, we develop strategies that promote conservation within the parameters of daily life. Adding a sense of sustainability is crucial in order to help people living in harmony with nature for their life and for future generations.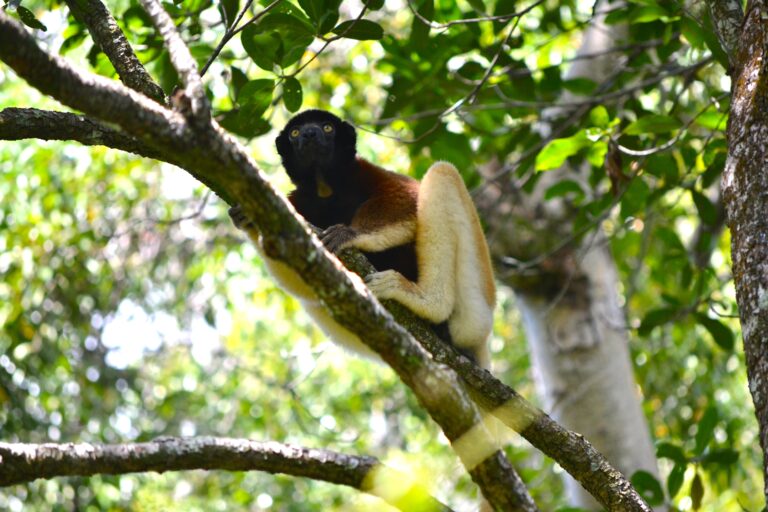 Where do you work?
We focus our work on five project sites, in five different locations: Ankirihitra (region Boeny), Madiromirafy (region Betsiboka), Mahajeby (region Bongolava), Dabolava (region Menabe), and Vohitrarivo (region V7V). Each of these rural sites is unique in their biodiversity and communities, but across these locations, our projects hold similar objectives. These include reforestation and ecological restoration, lemur and habitat monitoring, environmental outreach and practical environmental education, community development, community health, and community conservation.
IMPACT Madagascar's Activities
Our activities focused on forest restoration include large-scale community reforestation events. During these events, community members come together and plant native forest and fast-growing tree species in the area. The saplings that are planted are produced by the communities themselves in tree nurseries on site. This reforestation continues to be successful and improve each year. In 2019, we produced and planted approximately 241,000 seedlings for future use.
Lemur and Habitat Monitoring
Our lemur and habitat monitoring includes periodic inventories of diurnal and nocturnal lemur populations located at our project sites. These focus mostly on the critically endangered mongoose lemur and crowned sifaka (though the surveys are inclusive of all lemurs in the area).
For example, the Sifaka Conservation program aims to save the fragmented forests across the four locations (along the central highlands and northwestern areas), in order to protect crowned sifaka populations and the remaining rare dry and gallery forests. Additionally, our team identifies and monitors the pressures and the threats that menace these lemur populations as well as their habitats. With this identification at each site, we can develop better strategies to combat these harmful actions and to prevent future destruction.
Conservation Education
Our conservation education projects constitute an important strategy to address threats to biodiversity and to ensure community participation and the sustainability of conservation actions. This environmental outreach includes awareness campaigns at both school and household levels. These include practical activities such as healthy living, water purification, waste management, and how to recycle various types of waste. Additionally, information sessions take place through multimedia presentations and focus on the fundamental roles of the forest, the causes of destruction and their impact on human life, biodiversity and conservation, environmental laws, the food web, wildlife, and its ecological role, and ecosystem services.
An important tool applied in our practical conservation education is the Pan African Conservation Education (PACE) resources; we are also the PACE representative for Madagascar.
Community Development
Additionally, to help improve the living conditions of the local population in conservation areas, we have many community development projects that aim to promote income-generating activities within these communities.
We work with the local people in order to increase their farming yield and agricultural production by monitoring and providing practical training in the use of modern farming techniques and improved breeding programs, as well as promoting other alternative sources of income. In addition, we also encourage the production and sale of local produce to boost income within communities. As well as providing a more secure and sustainable future, this approach also helps by reducing the damage which current practices cause to biodiversity and forests.
Establishment and Support of VOIs
Last but not least, community conservation is a particularly important focus within all our projects at IMPACT Madagascar. At each of our conservation sites, we have established local management committees, called VOIs. These committees help to manage the forests and patrols are run by local people to monitor threats such as illegal logging and poaching, while simultaneously engaging local people in the protection of their forests.
Community Health
Additionally, we work to provide community health initiatives to these rural communities and offer them resources and care they do not otherwise have access to. These activities vary across sites and include medical missions in collaboration with health organizations to provide treatment and medical care, sexual and reproductive health education, and raising awareness about the importance of hygiene and water purification.
Support Impact Madagascar
IMPACT Madagascar's US branch manages donations. They are collected through their secure SquareSpace website at: http://impactmadagascar.org/support-us
All of our programs and project sites involve lemur conservation, so donations will always go towards lemur and environmental projects. Our programs dedicated specifically to lemurs are the Sifaka Conservation program and the bamboo lemur project in Vohitrarivo.