What We Do
Biodiversity Conservation Madagascar (BCM) was established in 2002 as the conservation arm of Bioculture (Mauritius) Ltd. Our main goals are to conserve threatened forests in east and west Madagascar that are of high biodiversity value, especially those rich in lemur species. We currently work in the 2,400 hectare lowland rainforest in Sahafina (East Madagascar) and the Beanka dry deciduous forest in the Maintirano region (West Madagascar).
How We Protect Lemurs And Other Wildlife
BCM manages the conservation of two forests on behalf of the Malagasy government through "Conservation Leases." Since 2003, we have been responsible for the protection of 2,400 hectares of humid low altitudinal forest in eastern Madagascar. In 2007, BCM started managing a second site—the Beanka New Protected Area in Western Madagascar. This 17,000 hectare forest is of significant ecological value and harbors a rich diversity of plants and animals.
We employ forest guards to reduce deforestation and poaching of lemurs.
What Lemur Species We Protect
We work in both east (Sahafina, near Brickaville) and west (Maintirano region) Madagascar protecting lemur species across both regions.
In the Benka conservation site, the program works to protect the following species:
Bemaraha woolly lemur (Avahi cleesei)
Fat-tailed dwarf lemur (Cheirogaleus medius)
Dwarf lemur (Cheirogaleus sp.)
Aye-aye (Daubentonia madagascariensis)
Red-fronted lemur (Eulemur rufus)
Eastern lesser bamboo lemur (Hapalemur griseus)
Randrianasolo's sportive lemur (Lepilemur cf. randrianasoli)
Pygmy mouse lemur (Microcebus myoxinus)
Giant mouse lemur (Mirza sp.)
Pale fork-marked lemur (Phaner pallescens)
Decken's sifaka (Propithecus deckenii)
In their Sahafina project site, they protect:
Eastern woolly lemur (Avahi laniger)
Greater dwarf lemur (Cheirogaleus major)
Aye-aye (Daubentonia madagascariensis)
Red-bellied lemur (Eulemur rubriventer)
Eastern lesser bamboo lemur (Hapalemur griseus)
Indri (Indri indri)
Brown mouse lemur (Microcebus rufus)
How We Support Local Communities
One of our primary approaches to forest protection includes the use of conservation payments to local communities. This program ensures that communities receive direct material benefits in exchange for supporting ongoing conservation projects.
Biodiversity Conservation Madagascar also implements the following programs in partnership with local communities:
Eucalyptus and fruit tree plantations
To alleviate pressures on the forest, at BCM we manage the growing and planting of Eucalyptus trees, which provide a good source of fuel and construction materials for local communities. Eucalyptus trees, due to their ability to grow quickly and without a lot of water, are an ideal replacement for the precious and slow-growing hardwood trees that have been traditionally cut down by Malagasy communities. BCM has also helped plant fruit trees in local villages to provide a secondary source of food and income to the local people.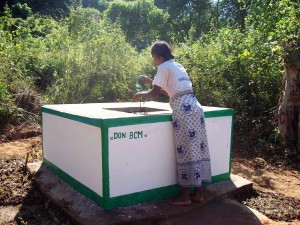 Water wells
BCM has provided the materials for local communities to build four water wells. This is of considerable importance as it helps assure a continuous water supply for the local community.
Agricultural training
BCM has trained local communities on how to effectively grow vegetables and to improve their rice growing techniques.