Eden Reforestation Projects
What We Do
Eden Reforestation Projects' mission is to alleviate extreme poverty through environmental stewardship. Every year Eden Reforestation Projects employs thousands of villagers in Madagascar, Ethiopia, Haiti, and Nepal to plant millions of native tree species resulting in the alleviation of extreme poverty and the restoration of healthy forest systems.
Eden Reforestation Projects has been working in Madagascar since 2007, and our efforts have resulted in the planting of over 77 million dry deciduous and mangrove trees in Madagascar alone. Eden Reforestation Projects is the largest reforestation group in Madagascar, and we aim to plant billions, yes billions, of trees in Madagascar in the next decade.
How We Protect Lemurs And Other Wildlife
Habitat destruction is one of the main threats to lemurs in Madagascar; some studies estimate that over 80% of vegetation in the country has been degraded or destroyed. At Eden Reforestation Projects we're working to combat this: 77 million trees were planted across Madagascar between 2007 and 2014. The organization is focusing its reforestation efforts in Madagascar around eight western Malagasy villages. In addition, we partner with one national park (Ankarafantsika), one university (Mahajanga), and one hotel resort with a private forest reserve (Antsanitia).
Mangroves
At Eden we've been working to rehabilitate mangrove estuaries in Madagascar since 2007. These habitats are critical to overall ecosystem health (combating erosion and improving ocean health) and also provide habitat for several mouse lemur species. In addition, healthy mangrove forests are green pathways for larger lemur species to cross from one patch of dry deciduous forest to another. Through our clearance, propagule collecting and planting work Mahajanga now has a healthy mangrove forest.
Dry Deciduous Reforestation Projects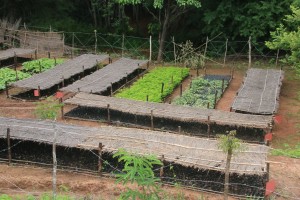 In 2012, we expanded our reforestation work to dry deciduous forests. The overwhelming majority of the tree species grown here are endemic to Madagascar's western regions, and virtually all of the species grown are native and essential to lemur species that inhabit these forests. Our main lemur habitat partner is Ankarafantsika National Park, which has a full nursery operating within the confines of the National Park and is home to eight endangered lemur species.
Fire prevention
Fire is the primary threat to all reforestation efforts in Madagascar, so we protect our reforestation sites by surrounding them with fire breaks and by hiring emergency fire prevention crews.
What Lemur Species We Protect
With the dry deciduous reforestation project our work is helping protect species present at Ankarafantsika National Park, including:
Coquerel's sifaka (Propithecus coquereli)
Mongoose lemur (Eulemur mongoz)
Brown lemur (Eulemur fulvus)
Grey mouse lemur (Microcebus murinus)
Golden-brown mouse lemur (Microcebus ravelobensis)
Fat-tailed dwarf lemur (Cheirogaleus medius)
Western woolly lemur (Avahi occidentalis)
Milne-Edwards's sportive lemur (Lepilemur edwardsi)
How We Support Local Communities
Eden Reforestation Projects believes in holistic community development, including assisting with the construction of schools, fresh water wells, and some medical services. In addition, Eden Reforestation Projects partners with local communities to provide employment opportunities as tree planters and forest guards. These partnerships initially began with the "Employ to Plant" approach to habitat restoration, which pays thousands of people across multiple developing countries, including Madagascar, to plant trees.
Sustainability of programming
At Eden we take a diverse approach to sustainability, which begins with the establishment of legal agreements with the local, regional, and national government agencies that authorize the reforestation efforts and include preserving the restored forests in perpetuity. Further, Eden is partnered with Mahajanga University and has an agreement with the Ankarafantsika National Park, where we seek to educate the communities with the goal of preserving the forests and local lemur populations.
Fruit orchards and fuel-efficient stoves
We know that reforestation projects are only impactful if other programs are instituted to help the local communities refrain from cutting those new forests back down. Therefore, we have also planted fruit trees as well as trees that can be used in construction. These are beneficial to the local villagers and ensure that their physical and financial needs are accounted for. In addition, in each of the villages, fuel-efficient stoves and/or solar-stoves have been provided, which have largely led to a significant decrease in charcoal production and use in the areas Eden serves.