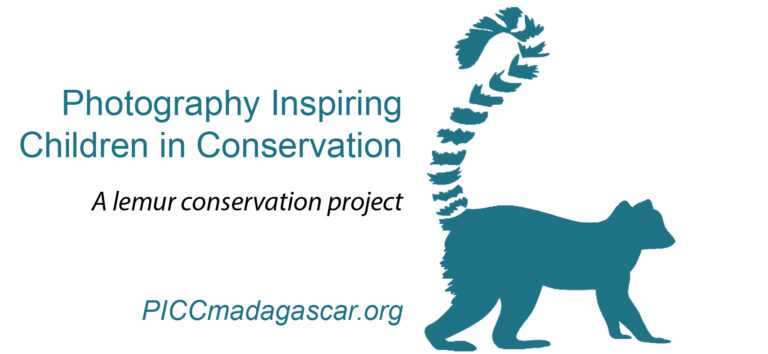 The act of creating an image with photography or sketching rewires us to be truly present and see details and beauty on a deeper level of appreciation.
~Kathy West, PICC Director
Supporting lemur conservation through visual arts
Photography Inspiring Children in Conservation (PICC) is based on the concept of engaging with the natural world through visual arts. The program goal is to inspire Malagasy students to become lemur conservation leaders within their communities by providing them with knowledge of lemur ecology, as well as local conservation issues and solutions. Malagasy students gain skills in photography, illustration, and storytelling, providing an effective foundation upon which they may seek conservation-oriented careers. PICC was designed with a goal of building local capacity for sustainable conservation through educating and empowering both students and the broader community, including local teachers and elders.
Building sustainable conservation
Over a two-week period, Malagasy students use customized coloring and activity books, worksheets, field journals, and DSLR cameras to document their local forests and develop scientifically accurate stories and illustrations. They are encouraged to develop unique lemur conservation ideas, making contributions to their communities using their new skills. A village-wide gathering at the completion of the project celebrates the students' works and recognizes participants as "Forest Ambassadors". Equipment remains onsite, accessible to the students and teachers for sustained learning, career development, and conservation work. About 3,000 tourists visit Masoala National Park (NP) per year. One of our goals is to give Malagasy students the opportunity to develop the skills needed to have future careers in ecotourism and conservation, improving their own lives while also protecting lemurs and their habitats.
It is important to foster the development of skills for conservation job opportunities – research has shown that Malagasy people who are involved in ecotourism, and earn their income from sharing wildlife experiences with visitors, will not hunt lemurs and will discourage others from doing so (Borgerson C, et al. 2016. Who hunts lemurs and why they hunt them. Biological Conservation 197:124–130).
Multilingual PICC materials produced as a result of this project – a book and poster of student works, documentary film, and website – will be distributed locally, nationally and internationally, and will be available open-source online. The book of student works will be printed and made available free to the students so that they can sell the book to tourists and use resulting funds to support their own conservation efforts as well as share knowledge with other students and communities.
How does PICC work
Coloring and Activity Books
Using a coloring and activity book designed for the project, the students learn about lemur species in their area and gain an understanding of the uniqueness of lemurs in the world, as well  as the importance of protecting lemur habitat. Through discussions, reading, and activities in their coloring and activity books, students learn about lemur biology, behavior, habitat needs, conservation issues, and the value of lemurs to tourism and a healthy ecosystem. Students who have already participated in the program have been thrilled to combine new skills in the arts and sciences, and have been excited to share their artwork with their families and communities, expanding outreach effects.
Field photography and sketching
The students are taken in small groups into wildlife habitat to spend hours observing and photographing populations of local lemurs (DSLR Canon cameras, 70-300mm zoom lenses). Participating teachers and elders also join the students in the field. Students are taught to look carefully at their surroundings, to notice the animals and details of the ecosystems that they might normally encounter, and learn from the knowledge and viewpoints of elders. The students also experience being immersed in lemur habitat and gain an appreciation for the behavior and ecological needs of various lemur species.
They gain experience in creating detailed notes and sketches to accompany their photographs, as well as recording their observations in a small, personal notebook. These notes and stories are scanned, printed, and displayed with the photographs, allowing the experience to be shared by classmates, families, and community members. Students have the opportunity to choose their best photographs onsite, which will be printed, laminated, and made into a display. The images are also posted on the PICC webpage.
The PICC website and teaching resources will be permanently accessible to program participants through the internet-connected iPad, giving students and teachers the ability to access the PICC website and web links to relevant research and conservation resources for species in Madagascar. A camera, printer, and laminator will also remain in the students' village to provide the opportunity to upload new work to the PICC website. They can also become active citizen scientists by using iPad apps such as iNaturalist, lemursportal.org, and other conservation applications. Teachers and paid local PICC team members will be available to assist the students.
See the PICC Curriculum webpage for more details.
Building capacity by partnering with local communities
Recognizing that this national park belongs to local communities and the Malagasy people, we aim to help children understand how to identify and maintain healthy ecosystems, as well as to understand the cultural, environmental and economic benefits of protecting lemur habitat.
Empowering Teachers and Community Elders in Education
In addition to focusing on children, the PICC program includes participation of teachers and elder leaders with traditional ecological knowledge, making the likelihood of program success much higher. This empowers the older community members who have extensive knowledge of native plants and animals and are related to many of the children in the program. Unlike teachers, these elders are seen as local leaders with ancestral ties to the land. This project acknowledges the importance of the Malagasy people's place in their landscape. We are interested in learning from them, and in returning knowledge to the community through the workshops, books and posters of student writing, illustrations, and photographs. Participating teachers are expanding their knowledge base in order to educate other students and teachers in nearby villages.
Education Projects Led by Pascal Elison
We are fortunate to have a talented Malagasy PICC team member leading efforts in the Masoala area. Pascal Elison grew up in the northeastern forests of Madagascar and is an experienced and knowledgeable eco-guide with creative ideas and skilled leadership abilities. He has an enthusiasm for sharing the forest biodiversity with visitors and has discovered that he also has a passion for educating and inspiring the children (see here for a description of the 2020 program).

Which lemurs does PICC Madagascar protect?
PICC's long-term goal is to be active in many conservation-critical areas of Madagascar during future, post-pandemic sessions. Currently working within coronavirus pandemic restrictions, we began our program in June 2020 with the students in the village of Ambodiforaha in northeast Madagascar, adjacent to the stunningly beautiful Masoala National Park, an area rich in biodiversity. This National Park and UNESCO World Heritage site protects as much as 40% of Madagascar's mammalian diversity. On the Masoala peninsula, 9 out of 10 species of lemurs present are vulnerable, endangered, or critically endangered, with the only remaining populations of some species found in this protected habitat.
PICC supports conservation of the following threatened lemur species in the Masoala NP and forest:
Red ruffed lemur (Varecia rubra) (Critically Endangered)
White-fronted brown lemur (Eulemur albifrons) (Endangered)
Scott's sportive lemur (Lepilemur scottorum) (Endangered)
Moore's woolly lemur (Avahi mooreorum) (Endangered)
Aye-aye (Daubentonia madagascariensis) (Endangered)
Hairy-eared dwarf lemur (Allocebus trichotis) (Vulnerable)
Masoala fork-marked lemur (Phaner furcifer) (Vulnerable)
Seal's sportive lemur (Lepilemur seali) (Vulnerable)
Northern bamboo lemur (Hapalemur occidentalis) (Vulnerable)
How to Help
The fundraising goal for our onsite 2021 PICC program is $18,000 USD, which will allow us to complete all aspects of the project. This includes Malagasy staff salaries, equipment purchases, internet connection (1-year+), student materials (coloring books, notebooks, pencils, canvas sacks), PICC staff logistic support (no salary), and publication costs for the post-project book and poster of student works. 100% of your donations will go towards this project.
PICC is partially supported by a grant from the American Society of Primatologists Conservation Committee and through private donations. Our team members are donating their time and skills to advance lemur conservation through this project. In-kind services and contributions are welcome!
Donations can be made online. Please contact us for other options, including mailed checks. To see how you can help, please visit our Support Us page or contact us directly.
Photography Inspiring Children in Conservation is a 501(c)(3) nonprofit organization. All donations are tax deductible.