We are excited to welcome and introduce a new group of science communication and education volunteers to the Lemur Conservation Network! These volunteers come to us from Madagascar, France, the United Kingdom, Germany, and across the United States.
As the world's most endangered group of mammals, lemurs need the help of conservationists and animal lovers now more than ever. That is why we are so happy to unite this talented group of passionate individuals to work together and make positive strides for lemur conservation.
Our science communication and education volunteers will be working on several key projects:
Building our presence on Instagram with exciting lemur and science content
Helping to improve our website by systematically reviewing our content to identify gaps and issues
Building new website sections for learning about lemur conservation and traveling responsibly to Madagascar
Creating educational materials to share on our English and Malagasy websites
Creating educational materials for use by member organizations at project sites across Madagascar
Learn more about our new science communication and education volunteers below.
Social Media and Website
Social Media Leads
Laura Hemlock is a lifelong lover of all things natural who grew up in Minnesota digging up salamanders and chasing frogs. She has now translated her love of nature and background in filmmaking into a YouTube Channel for children, "Diggin' Into Nature with Laura." During the day she is the Program Officer for Communications and Creative Services for the Rockefeller Center for Public Policy at Dartmouth College. Laura holds a BA in Communications from Northwestern University and a MA in Biology from Miami University.
Kristina Graves is a keen conservationist and ecologist. Her passion for protecting the environment for wildlife, people and our climate started from a young age watching nature documentaries and exploring her back garden in England. She studied Zoology for her undergraduate degree, after which she took a job in Madagascar where she worked on a number of research and conservation projects. It was there that she learnt how much the environment means to people's wellbeing as much as the conservation of wildlife and that you can't have one without the other. She has since applied this knowledge to her recent research project and internship in Costa Rica and her current role of working with farmers in the UK to plant woodlands.
Malagasy Content
Ranaivoson Diamondra is working with our Madagascar Manager, Seheno, to create content for Malagasy audiences for our website and social media. She is studying Ecosystem and Biodiversity in the Forestry and Environment Department of the University of Antananarivo. Diamondra is passionate about the biodiversity of Madagascar, and that's why she decided to join Lemur Conservation Network's team. She also loves traveling across her wonderful country.
French Content
Sonia Antoine is helping us grow our French audiences, recruit French conservation organizations to join the Lemur Conservation Network, and create illustrations for social media. She grew up in France in a French and Malagasy family. She is training to become a veterinarian and has always dreamt of working for animal health in Madagascar. In 2019, Sonia traveled to Nosy Be on a humanitarian veterinarian mission, where she neutered and spayed stray cats and dogs, and cared for lemurs at Lemuria Land Park.
English Content
Coral Chell has a BSc (Honors) in Zoo Biology and an MSc in Endangered Species Recovery and Conservation, with a keen interest in anything lemur, conservation and/or Madagascar related. She is currently a Higher Education Lecturer at a college in East Yorkshire, UK. She is also working on a variety of research projects in Madagascar looking at the Coquerel's sifaka and Ring-Tailed lemurs, and is hoping to work towards a PhD in the next few years focusing on lemurs.
Katie Hallsten is a primate cognition researcher and MSc student at the University of St. Andrews where she studies planning behavior and physical cognition in chimpanzees, orangutans, and macaque monkeys. She is dedicated to conserving the world's most endangered primates and hopes to inspire others to do the same.
Natalie Park is from Chicago, Illinois, USA and loves primates! She has worked with primates of all kinds for the past 3 years. She has a Bachelor's degree in biology and is currently working towards her Master's degree in biology. She is looking forward to creating lemur conservation awareness with the LCN!
Maddie Henning is a current graduate student working on her MA in Biology through Miami University's Project Dragonfly and the Woodland Park Zoo in Seattle, Washington, USA. She joined the Lemur Conservation Network this year as a volunteer to connect more to her desire to contribute to endangered species protection and awareness, as well as the advancement of responsible ecotourism.
Alice Scott comes from Wales but now lives in Germany. She is currently studying for an MSc in Sustainable Mountain Development at the University of the Highlands & Islands via distance learning whilst working. Her background is mainly in Tourism Management. She would like to work in eco-tourism, conservation, nature parks or in a National Park in the future. Alice has worked with LCN in the past, writing a blog post about ecotourism for our website in 2017.
Amber Wyard is from North Wales in the UK and is currently studying for a MSc in Zoo Conservation Biology. She is passionate about science communication and sharing important wildlife conservation issues. She is fascinated by Madagascar's incredibly unique wildlife (especially lemurs!) and hopes to one day travel to Madagascar to see some of these amazing species in the wild!
Educational Materials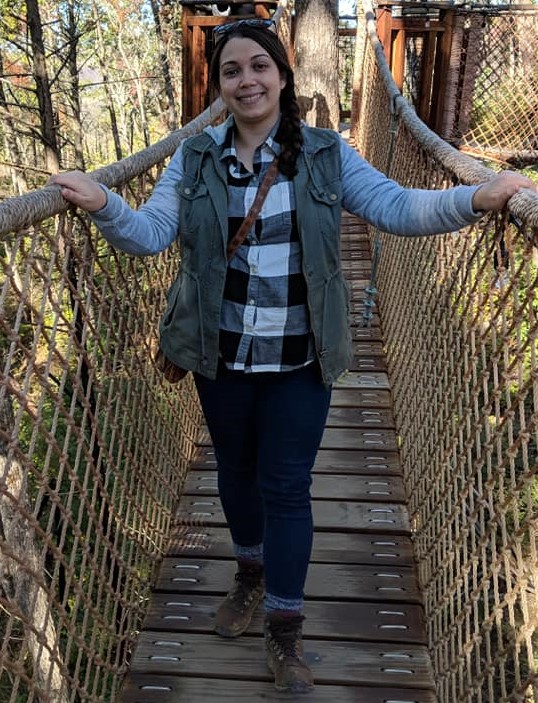 Jessica Deville has always had a passion for wildlife conservation and began focusing her efforts on helping lemurs in 2017 by co-founding the Louisiana Lemur Foundation, an LCN member organization. She holds a Bachelor's degree in Biology concentrated in Ecology, Evolution, and Environmental Science from Southeastern Louisiana University, and she worked in the animal care field for several years as a vet tech and a zookeeper. Her favorite thing about lemurs is that they are the oldest and most diverse living members of the primate family tree!
Brittany Novick is the clinical diagnostic coordinator and the head of educational curriculum development for the National Marine Mammal Foundation in San Diego, CA. Brittany earned her B.S. in Biology from Bowling Green State University and is currently earning her M.A. in Conservation Biology through Miami University. Brittany has experience in animal care and wildlife rehabilitation; research and field work with formal scientific institutions; and community education, outreach, and media-based wildlife educational programming.
We are very grateful to all of our volunteers for spending their time and talents supporting lemur conservation efforts around the world. Stay tuned to the Lemur Conservation Network to see their work!