The World Lemur Festival is a series of activities happening throughout the globe in October with the aim to raise awareness for lemur conservation, to celebrate these unique animals and Madagascar, and to show people the importance of protecting lemurs and their habitats.
2017 was the fourth year this festival was celebrated. Lemur supporters threw festival events in Madagascar, Hungary, US, Japan, and more. Events were held and sponsored by many LCN members, including GERP, Lemur Conservation Foundation, Duke Lemur Center, World Wildlife Fund, Aspinall Foundation, the Smithsonian National Zoo, Chances for Nature, Madagascar Biodiversity Project, and more.
Let's take a look to some of this year's World Lemur Festival events in Madagascar and around the world!
Events in Madagascar
Antananarivo
During November 10th, GERP Madagascar celebrated the 4th edition of the World Lemurs Festival. More than 500 participants gathered to celebrate lemurs. The "Madagascar Lemurs Portal" project team actively participated in it and was able to promote the future Portal to a large number of users.
Through the Portal, people can learn more about these emblematic species of Madagascar and know how to contribute to their conservation.


Nosy Be
On October 27th, Frontier Madagascar hosted a stand in Hell-ville near the market, where they promoted their work with conservation messages and information about local lemur species and raised awareness within the community about lemurs generally and about pet lemur issues!
They had information posters, questionnaires and kids activities, like coloring, word search and ringtail bracelet making.
Nosy Ankao
The Miavana-Time + Tide Foundation has been working with lemur conservation and in environmental projects on and around the Nosy Ankao archipelago. This year, they celebrated the World Lemur Festival in the area.
On November 28th, they watched the movie Islands of Lemurs with the community and raised awareness about lemur conservation with activities including a presentation on lemurs, as well as coloring and drawing with the kids at school.
Andapa
The Lemur Conservation Foundation hosted an event for the WLF on November 25th in Andapa. The event was an huge success, having more than 500 participants.
Sponsors
Besides the LCF, this event was sponsored and organized by Madagascar National Parks, World Wildlife Fund, Symrise, Duke Lemur Center, and Save the Children.
Festival
The Festival began with a large parade with many groups (students, women, environment clubs, and more) dressed in lemur themes. Then all activity moved to city hall where various activities began such as a dance competition, lemur art contests, poetry/story contests, question and answer sessions about lemurs and finally we played the BBC Film in Malagasy ("Nosy Mahagaga"). There were refreshments and prizes for the children provided by LCF including postcards, t-shirts, and hats.


The Lemur Conservation Foundation's 2017 event in Andapa.

Sakalaya, Morarano Gare
The Aspinall Foundation celebrated with school kids from the community. Check out how much fun they had in this video:
Kianjavato
On World Lemur Day, the Madagascar Biodiversity Project and communities in Kianjavato planted 15 THOUSAND trees…..bringing their total count up to 1,443,175 trees planted in Madagascar! Since the festival, they have planted additional trees and now their total count is over 1,500,000!
Events in the United States
Washington DC
on October 27th, the Smithsonian National Zoo celebrated World Lemur Day at Lemur Island to chat with keepers about caring for these endangered animals and meet their ring-tailed lemurs, black-and-white ruffed lemurs, and red-fronted lemur.
New York
On October 28th, the Staten Island Zoo celebrated the World Lemur Festival with their guests!
Also in New York, the Wildlife Conservation Film Festival showed films from Eyes of the World films on October 24th. The films were Madagascar Wildlife, Andasibe, and the Burning Borneo's Peat Swamp Forest.
Kansas
At Lee Richardson Zoo, on October 28th, they celebrated World Lemur Day with keepers' presentations, fun activities and discovery carts.
Tennessee
The Tennessee Aquarium celebrated on November 4th with a variety of special activities throughout the day including a lemur mask making station, lemur-themed photo booth, education stations with lemur artifacts, plus many more.
Animal programs throughout the day included:
three lemur programs where guests watched the lemurs interact with special World Lemur Day enrichment and learned about their conservation and the island of Madagascar
multiple reptile programs using endemic species such as chameleons and radiated tortoises, and
multiple education programs using hissing cockroaches.
Utah
The Salt Lake Community College had a Super Lemur Party, and in only 2 hours, they raised over $1,000 for lemur conservation!
Students at Salt Lake Community College hosted a Super Lemur Party on October 26 in conjunction with the World Lemur Festival. They had games like Lemur Long Jump, Pin the Ringtail on the Lemur, Conservation Cornhole, a coloring contest, a raffle with awesome prizes, a photo booth, and a silent auction.
California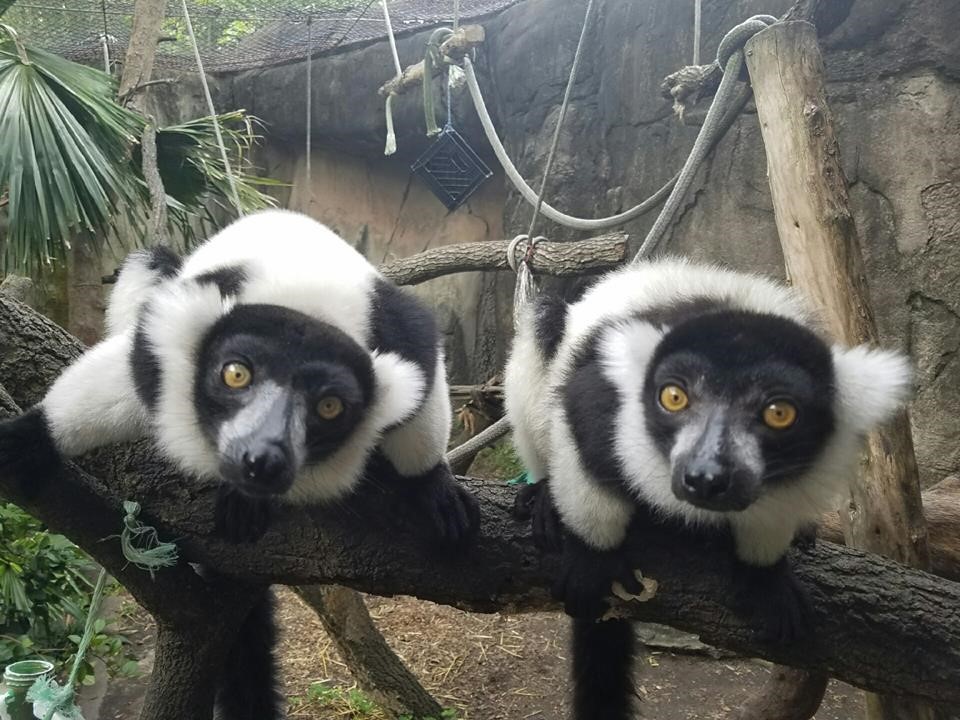 From October 27th-30th,  the San Francisco lemur keepers had an event at Pub the Riptide to raise awareness for lemur conservation, with donations benefitting AEECL. A dollar for every sale of two different beers went to AEECL: a light beer "Lady blue brew" and a dark beer "Black and blue brew".
Also, on the evening of the 27th, they had a silent auction.
Louisiana
A new non-profit foundation, Louisiana Lemur Foundation, was born during this year's World Lemur Festival!
They had their launch party on November 4th. This organization is committed to lemur conservation, public education, and non-invasive research. They have plans to build a sanctuary and research facility where they will house rescued pet-trade lemurs, rehabilitate them if possible, and conduct behavioral research to contribute to their scientific knowledge of these amazing creatures. Learn more about this new organization.
Connecticut
The Yale Peabody Museum of Natural History celebrated the World Lemur Festival on  October 29th. Yale University lemur researchers were on hand so guests could learn more about lemur science and discover their "spirit lemur!"
Arkansas
On October 28th, the Little Rock Zoo invited their guests to see their lemurs up close while learning about how they are endangered in the wild and what they can do to help! They had games, crafts, educational information, a scavenger hunt, story time with the Ako series, keeper chats and more.
Events in Canada
Toronto
The Toronto Zoo had a #LemurAwarenessWeekend from October 14-15! They had activities with lemur keepers and a special training session with their lemur 'conspiracy'! Their guests  learned about the unique biodiversity of Madagascar and more about these primates and how they individually can help to protect lemurs in the wild.
Events in Europe
Miskolc, Hungary
The Miskolc Zoo had a bunch of different activities on October 21th to celebrate the World Lemur Festival. They had a feeding and enrichment program in the lemur enclosure, a Presentation about Madagascar and lemurs with professionals, a Lemur adoption (annual aid for the supply of lemurs), they discussed with their visitors about wildlife risk factors and conservation efforts, had Madagascar coloring for and sold books about Madagascar
Affenberg, Germany
Lemur Day at Affenberg Salem! LCN member Chances for Nature in cooperation with Affenberg Salem, Germanys biggest monkey outdoor enclosure, celebrated Lemur Day during their Conservation Week from 22.10-5.11.2017.
All Visitors were invited to see a beautiful exhibit with amazing portraits of lemurs. The exhibit raised awareness about lemur conservation and informed visitors about several ongoing projects of Chances for Nature in Madagascar.
Events in Asia
Aichi Prefecture, Japan
The Japan Monkey Centre from October 21st, to October 29th, had a variety of activities to celebrate the World Lemur Festival.
Science Talks
They had a talk about Madagascar called, Where is Madagascar and What is the Place Like? What kind of animals are living there?
A keeper who has visited Madagascar and a researcher who is studying wild animals in Madagascar gave talks about their experience and the latest research.
Activities
Other activities for World Lemur Day included:
Keepers prepared snacks for lemurs
Lemur-themed attire like black and white stripe clothes, original keychains, and hat.
Puzzlemurs!, a game where they solved mysteries that are set in the center facilities.
Madagascar Photo Exhibition where they displayed photographs taken in Madagascar.
Sold original lemur-themed goods!
Yamaguchi Prefecture, Japan
From October 21-29, the Tokiwa Zoo celebrated the World Lemur Festival with different activities with their guests. They had a maze made of the corrugated cardboard where children can learn about lemur when playing. Also a True or False Quiz, where they had a Keeper Talk about lemurs, and gave some quizzes. Additionally, they provided guests with close encounters with their ring-tailed lemurs!
As you can see, the World Lemur Festival 2017 was a complete success! Let's hope that next year we'll have even more events and more people enjoying lemurs and learning about their conservation throughout the world!

Thank you to all of our members, supporters, and sponsors for their hard work and dedication to lemur conservation during this year's festival and throughout the year!