You can help communities across Madagascar learn about lemurs this summer!
Two of our volunteers at the Lemur Conservation Network will be traveling in Madagascar, and they hope to deliver lemur education kits to eight organizations in four regions. Coral Chell will be in Madagascar for her PhD research with the University of Toronto, and Lynne Venart will be traveling across the island to write blog posts and take photos for LCN, and enjoy some lemur watching!
Both volunteers are covering the costs of their lodging and transportation. Can you help us cover the costs of the education supplies?
What is included in a lemur education kit from the Lemur Conservation Network?
Each lemur education kit includes:
Two boxes of lemur cards (seen above) with instructions in Malagasy, French, and English for games to play with and without cards
Two sets of Ako series books with stories about lemurs in Malagasy and English, from the Lemur Conservation Foundation (6 books each)
Coloring sheets (13 lemur species)
Mask-making supplies, including mask templates, popsicle sticks, and masking tape
Colored pencils and crayons
Additionally, we hope to raise enough funds to purchase a small projector to help artist Jessie Jordan create murals with schools near Masoala National Park.
Where are the volunteers traveling in Madagascar and what organizations will they reach?
Ankarafantsika and Northwest Madagascar
Coral's PhD research studies coquerel's sifakas, so she will be near Ankarafantsika National Park for six months, starting in late May! She will be based at a community managed forest called the Mariarano Forest Complex, which is about 40km from Mahajanga. The high school in the Mariarano village is the only one in the region, so kids come from across the area to study here.
Coral will be delivering education kits for Planet Madagascar and the VOI (or community association) at Mariarano (Tanteraka is the local name).
Donate to help Coral bring education supplies to Madagascar!
Masoala National Park
Lynne will be spending a week in June exploring Masoala National Park in northeastern Madagsacar with the Masoala Forest Lodge. Both the Masoala Forest Lodge and the nearby Arol Ecolodge work regularly with local schools and communities by holding fun educational activities. Lynne plans to deliver education kits to both lodges and bring a small projector to artist Jessie Jordan who is currently working for Masoala Forest Lodge. Jessie will soon be working with schools in the area to paint murals, and this projector will be a great help for those projects!
Andasibe-Mantadia National Park and the Eastern Rainforests
Lynne will also be spending a few days in Andasibe-Mantadia in eastern Madagascar, hoping to see indris and the eastern rainforests.  She plans to meet with Association Mitsinjo and the Andasibe Guides Association to deliver education kits to help their work with communities here.
Fort Dauphin and Tsitongambarika Protected Area
For a week in July, Lynne will be in southern Madagascar near Fort Dauphin, spending three days in Tsitongambarika, a relatively new reserve managed by Asity Madagascar. We can't wait to see her photos and learn what this new protected area has to offer for adventurous tourists! While in Fort Dauphin, she's also excited to meet with LCN member SEED Madagascar to share our education kits.
Donate to help Lynne bring education supplies to Madagascar!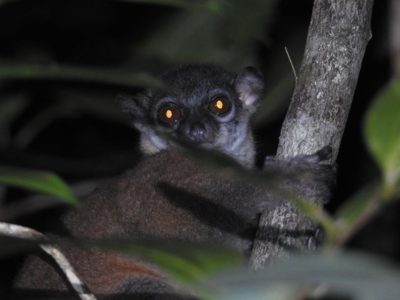 What funds are needed for these lemur education supplies?
Total cost: $600
We are very grateful to our volunteers for covering the cost of transportation and lodging as they deliver these supplies, to SOS Save Our Species for covering the cost for the lemur card games, and to the Lemur Conservation Foundation for providing the Ako books!
We estimate that $600 will allow us to purchase these supplies for 8 organizations.
$50: Printing coloring sheets
$80: Printing mask templates on card stock
$100: Popsicle sticks and masking tape for masks
$150: Colored pencils and crayons
$220: Small projector to help create murals with schools near Masoala National Park
Donate to help Coral and Lynne bring education supplies to 8 organizations in Madagascar!