Saving lemurs through scientific breakthroughs and on-the-ground conservation programming.
Founded in 1966, the Duke Lemur Center (DLC) at Duke University (Durham, North Carolina, USA) is an internationally acclaimed non-invasive research center housing over 200 lemurs across 14 species—the most diverse population of lemurs on Earth, outside their native Madagascar.
Because all of its research is non-invasive, the DLC is open to the public and educates more than 35,000 visitors annually. Its highly successful conservation breeding program seeks to preserve vanishing species such as the aye-aye, Coquerel's sifaka, and blue-eyed black lemur, while its Madagascar Conservation Programs study and protect lemurs—the most endangered mammals on Earth—in their native habitat. The Division of Fossil Primates examines primate extinction and evolution over time and houses over 35,000 fossils, including extinct giant lemurs and one of the world's largest and most important collections of early anthropoid primates.
SAVA Conservation Project 
In 2011, the DLC initiated the SAVA Conservation project in the northeast SAVA region, an acronym that stands for the four districts in the region: Sambava, Andapa, Vohemar, and Antalaha. The DLC-SAVA Conservation project is dedicated to preserving the natural biodiversity of Madagascar — especially its charismatic lemurs — by empowering local communities to be conservation leaders. Our goals are preserving natural environments as well as increasing sustainability and resilience. We achieve these goals through activities centered on education, reforestation, sustainable agriculture, fuel-efficient stoves, research, and much more.
The mission of DLC-SAVA Conservation is to conserve biodiversity in Madagascar by supporting the livelihoods of rural people in forest-bordering communities and through collaborations with researchers, local environmental organizations, and governmental institutions.
DLC-SAVA Conservation activities
Through our network of partners, the DLC-SAVA Conservation activities include:
Environmental education (EE):
EE working group: DLC sponsors a working group of local educators and school administrators to co-design conservation education programs for schools.
Lemur awareness campaign: noticing a remarkable increase in reports of lemur hunting, in 2021 the DLC began a mobile interpretive center that reaches diverse schools throughout the SAVA region. Partnering with school administrators and the EE working group, DLC staff visit schools, deliver presentations about the local lemur species, why lemurs are important, that they shouldn't be hunted, and how to protect them. They give posters to the schools, and use lemur activity books to create their own posters about lemurs. All students finish with an evaluation and receive a certificate of lemur appreciation. Almost 400 students have participated in the lemur awareness campaign as of the writing of this article (July 2021), with 30-50 students being served each week.
EE teacher training: Since 2012, DLC has run workshops for all the schools in the Sambava and Andapa districts. These workshops bring together 10-15 trainers, upwards of 250 teachers, and school administrators for 5-day lessons on how to implement environmental education into the curriculum. Founded on years of development between Malagasy conservationists and educators, the training centers around a manual that guides the teachers in integrating nature into every day lessons. Almost 3,000 teachers have been trained as of 2021, and all schools in the two districts have been reached. We now plan to expand to the Antalaha district.
Supporting local educators: The DLC partners with the New Generation School Garden, an interpretive center and demonstration farm that invites learners of all ages for educational lesson plans. Run by SAVA conservation activist BENASOAVINA Evrard, the aim of the garden is for visitors to have an engaging experience in nature and learn about sustainability and biodiversity. Through the NGSG and DLC, over 100 students have had 3 interactive lessons at the garden, with a goal of 300 students per year.
Landscape restoration:
The DLC maintains tree nurseries with communities to supply high quality seedlings of diverse trees including over a dozen native species, cash crops like coffee, cloves, and cacao, and over a dozen fruit species. As of the writing of this article, we partner with five communities to maintain tree nurseries and support their reforestation efforts. Each nursery produces approximately 25,000 seedlings per year, which are distributed to the community members to plant on their lands and during group planting events. The DLC staff provide consultation on proper planting techniques and follow up evaluations to determine seedling survival.
We are partnered with local collaborators to maintain and monitor 4 reforestation plantations throughout the SAVA region, with over 59,000 trees planted on 20 hectares in 2021, and plans for a similar effort in 2022.
Promoting aquaculture:
To diversify diets and incomes, and as a sustainable alternative to bushmeat, DLC pairs local leaders in fish farming with rural farmers for training in fish production. One model aquaculture project recently harvested over 13kg of fish within 4 months of restocking the pond. The harvested fish were shared among the parents who have made their own ponds so they could stock theirs, as well as a lunch for the school children, and some were sold to raise money for a new blackboard for the school.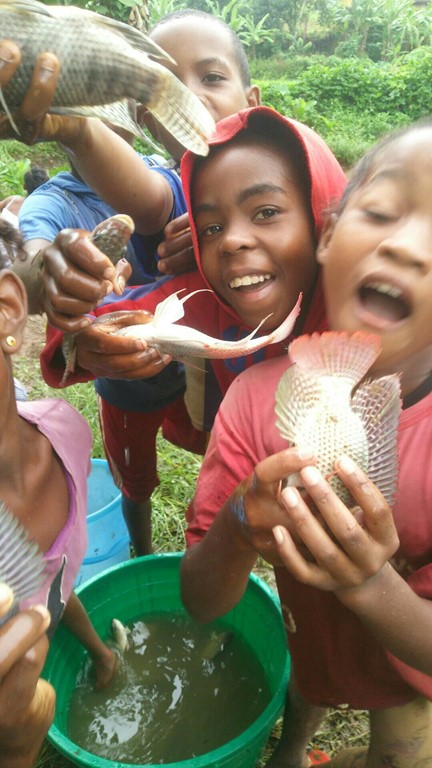 Collaboration with Madagascar National Parks:
To increase protection and monitoring of parks, especially Marojejy, in recent years, we have continued to sponsor clearing the park limits, painting trees, and hanging new signs for boundary demarcation, and a road-block barrier to prevent trucks from transporting precious wood out of the forest. DLC also collaborates with the MNP to support monitoring by village guards and park staff.
Installation of a potable water well at Manantenina in 2021: This village near the Marojejy National Park lacks reliable sources of clean water because local sources are often contaminated with disease-causing microbes. The DLC created a partnership agreement with the community to install a deep-water well that will maintain safe water even during the dry season.
Research:
In collaboration with the local university (CURSA), we are studying lemur viability in protected areas in SAVA, starting in 2020. One Malagasy PhD student and four Masters candidates are currently partnering with DLC and WWF to develop their thesis projects on the ecology and conservation of lemurs in the COMATSA, a corridor between Marojejy, Anjanaharibe-Sud, and Tsaratanana.

In addition to research in the forest on lemurs, the team conducts socio-ecological research with the communities. Through focus groups, key-informant interviews, and lemur awareness campaigns, the team is learning about how people use forest resources, especially the level of hunting.
In collaboration with CURSA, we are studying the links between socioeconomics, agriculture, nutrition, and health. Two Malagasy PhD students are developing their theses, one focusing on nutritional health and the other on connections between agriculture and socioeconomics.
Information campaign and distribution of fuel-efficient 'rocket' stoves:
More than 80% of people in Madagascar use firewood or charcoal to cook. We partner with the Swiss organization ADES, which produces fuel-efficient stoves in Madagascar that burn 1/3 the biomass of firewood or charcoal compared to traditional stoves. Between 2020 and 2021 alone, over 500 households received training and subsidized stoves. Stoves are sold during demonstrations, and through local entrepreneurs serving as distributors. We are evaluating participants, and found 100% of users are satisfied and save 25-50kg of charcoal on average per month.
Women's reproductive health
We maintain collaboration with British NGO Marie Stopes International, to support nurses visiting remote villages and providing consultation and services on women's health and reproduction. Over 1,500 women have been served in 23 rural villages.
Serving as a platform for Duke researchers and students:
The following departments at Duke have active projects in collaboration with DLC:

Duke Evolutionary Anthropology and Global Health (NSF-NIH funded research project)
Duke Nicholas School of the Environment Masters Program and the Duke Carbon Offset Initiative (investigating Madagascar reforestation programs for carbon offsets).
Collaboration with CURSA to promote capacity strengthening:
Two graduates of CURSA are pursuing Masters programs in the capital, supported by DLC scholarships.
Ten students (50% women) are currently enrolled in a DLC Agroecology Internship program, conducting workshops in sustainable agriculture and agroforestry, consulting with farmers about transitioning to sustainable techniques, evaluating programs, and leading in agribusiness entrepreneurship venues.
Educational workshops to develop skills:

Genetics with 30 students at CURSA in 2018. The workshop was led by DLC scientists Marina Blanco and Lydia Green, and focused on hands-on skills development in molecular biology methods.
Field Ecology and Conservation with 35 seniors at the university in 2019. The workshop included one week of field training on data collection in the Marojejy National Park, and one week of data analysis and scientific presentations and writing. The program culminated with students giving presentations on their results and experiences during the training. DLC-SAVA staff served as supervisors and thesis readers for four students preparing senior theses.
Scientific Methods and Natural History Collections, serving 30 seniors in 2021. Malagasy scientists Drs. RAMIADANTSOA Tanjona and RAKOTOARISON Andolalao from Antananarivo led a week-long course on the scientific method, principles of research design, and natural history collections especially focusing on rare reptiles and amphibians of the SAVA region.

Small research grants were awarded to 15 students to complete their Honors theses. Diverse topics included primatology, herpetology, hydrology, nutrition, agriculture, and evaluations of the DLC reforestation and fish farming projects, to name a few.
Regenerative agroecology:
DLC partners with CURSA to deliver a value-added package for students and farmers to develop skills in agroecology, including home gardens, regenerative agriculture, and agroforestry. Over 10 workshops have been conducted with ~200 participants (>50% women) between 2019 and 2021. Monthly evaluations show that about 40% of participants have adopted techniques learned during workshops and applied them in their own agriculture.

Women are so crucial to the agricultural value chain and are unfortunately marginalized. We began workshops specifically focusing on women, led by female trainers and attended exclusively by women. These have led to the creation of several Women's Farmers Associations, who are coordinating their efforts to increase productivity and profitability for their small home gardens.
New collaborations with the NGO Positive Planet and the spice company Virginia Dare.
Promoting improved regenerative agroforestry coupled with agribusiness projects with farmers. These projects seek to strengthen professional skills for farmers to develop agroforestry systems that will increase productivity and restore the landscape. In addition, skills-development in family farm budgets as well as village savings and loans associations (VSLAs) strengthen farmers' socioeconomic resilience. These VSLAs give farmers access to banking and loan services managed by the communities, overcoming barriers of access to official banks.
These projects and more are active areas of research, conservation, and development by the DLC in partnership with our collaborators in Madagascar. We are proud to highlight the work of our partners, without whom the DLC could not achieve our goals. The collaborations with CURSA, MNP, DREDD, the Ministry of Education, local farmers and activists are all essential to meeting our common goals of conservation.
DLC-SAVA Conservation team
Charlie Welch, DLC Conservation Coordinator – Charlie is based at the Duke Lemur Center in Durham, NC and has nearly 35 years of experience working in Madagascar conservation, including 15 years living in Madagascar. In 2004, Welch was awarded the Chevalier de l'Ordre National by the government of Madagascar for conservation accomplishments in the Tamatave region, while with the Madagascar Fauna and Flora group. Welch now coordinates all project activities, both at the DLC and in Madagascar. Contact: charles.welch@duke.edu.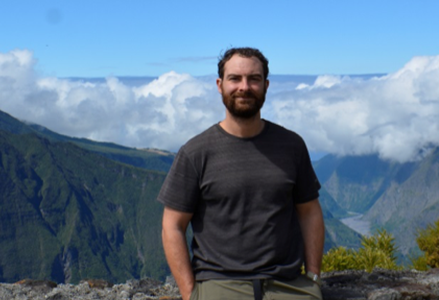 James Herrera, Ph.D., DLC-SAVA Program Coordinator – James is based in the SAVA region of Madagascar, with 10+ years of experience with conservation research and outreach in Madagascar. James conducted his Ph.D. at Stony Brook University with Dr. Patricia Wright, studying lemur evolution, ecology, and conservation. He was a research fellow at the American Museum of Natural History, and a researcher with Duke University's Evolutionary Anthropology department and Duke Global Health Institute. James oversees the implementation and evaluation of all project activities in Madagascar. Contact: james.herrera@duke.edu.
Lanto Andrianandrasana, DLC-SAVA Project Coordinator – Lanto is based in SAVA region of Madagascar. He has worked in the SAVA since 2009 and has been with DLC-SAVA since its inception in 2011. Lanto has been involved in research, with a master's degree in Paleontology, as well as lemur behavior and conservation. Lanto is responsible for project administration in SAVA and the coordination of our activities with local partners. Contact: lha3@duke.edu.
Evrard Benasoavina, DLC-SAVA Education specialist – Evrard is from the SAVA region and has worked with DLC-SAVA since 2020. Evrard has a background in biodiversity research and conservation, ecotourism, and agriculture. He created the New Generation School Garden, an interpretive center to valorize biodiversity and ecosystem services, especially related to natural resource management. Evrard leads in our education and outreach programs, including lemur awareness campaigns, school group visits to his center, and more.