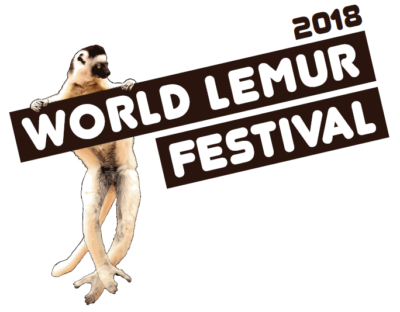 We encourage all member organizations and lemur fans to celebrate lemurs with us on the World Lemur Festival 2018! The World Lemur Festival events will be held in Madagascar and throughout the world on the 26th-28th of October.
The World Lemur Festival and World Lemur Day raise awareness for lemur conservation, and tell the world how amazing lemurs and Madagascar are. The World Lemur Festival is for everyone—lemur fans and conservation leaders, scientists and artists, teachers and students, kids and parents, and YOU!
See the 2018 Events Calendar (updated regularly)
About the World Lemur Festival
2018 World Lemur Day and Festival Graphics
This year's World Lemur Festival and World Lemur Day graphics were designed by Lynne Venart, who volunteers for the Lemur Conservation Network, and Lauren Petronaci who's part of Lemur Love.
You are welcome to use these graphics to promote your events, and to share them on social media. If you prefer to design your own logo for your event, go for it!
LCN's World Lemur Day Logo
Design by Lauren Petronaci of Lemur Love
Download LCN's World Lemur Day and Festival Logo Files
If you need any other logo file types, contact Lynne Venart at lynnevenart.lemurnetwork@gmail.com.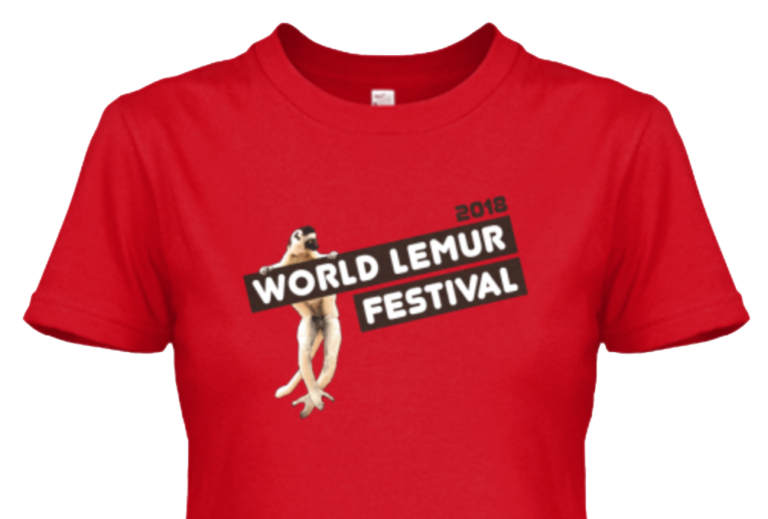 2018 World Lemur Festival Apparel
Check out all the color and style options for this year's World Lemur Festival tshirt on TeeSpring!
Shirts print and ship every 3 days, with new campaigns starting regularly.
Proceeds from the sale of this shirt will benefit a randomly chosen LCN member organization which helps to protect at least one sifaka species from extinction. Stay tuned to the Lemur Conservation Network on Facebook to find out who receives the donations!
Buy a Shirt on TeeSpring
Plan an Event
Over the past several years, lemur fans held Madagascar-themed parties and happy hours, raised funds for their favorite organization, spread the world on social media, and organized events at schools. This is a great way to connect with fellow lemur fans, raise money for your favorite lemur charity, and inspire everyone to love lemurs!
Inspiration for Your Event
World Lemur Day = Social Media Blitz!
2018 World Lemur Day will be held on Friday, October 26, 2016.
While the World Lemur Festival involves physical events, World Lemur Day is one day of the year for us to let the world know about lemurs and encourage their protection. So, get your typing fingers, emoticons, and best lemur photos ready because we want all lemur fans to do a social media blitz on Friday, October 26!
Spread the lemur love on Social Media
* Remember when sharing social media posts that we strongly discourage sharing photos or videos that show lemurs interacting with humans, because while they may be cute, these images and videos promote keeping lemurs as pets. Learn more about this threat.
Post a picture of yourself wearing a lemur costume or lemur attire using hashtags #WorldLemurDay and #LetsSaveLemurs — we'll share your photos in a World Lemur Day recap on LCN's Facebook page!
Change your profile picture to the World Lemur Day logo or your favorite lemur photo.
Change your Facebook banner image to the I love lemurs graphic.
Share lemur photos, links to your favorite conservation organizations, your favorite lemur memes, cute lemur videos, and photos of your travels to Madagascar with your friends on social media.
Encourage friends to donate to support lemur conservation.
Use the hashtag #WorldLemurDay or #LetsSaveLemurs in your social media posts all week!
Submit Your Event
Let us know if you are holding an event, and we will add it to our map and event blog post (coming in October). Send us your photos and stories afterwards, so we can share them in our World Lemur Festival Wrap-Up blog post and on social media.
Email your event details to LCN Director Lucia Rodriguez at lrodriguez.v6@gmail.com or submit via our contact form.
Submit Your Event
Buy a 2018 World Lemur Day T-Shirt, Sweatshirt, or Mug!
All shirt and mug sales benefit lemur conservation programs in Madagascar.
LINK